At Nineteen Culinary Studio
We are a culinary school catering to people who wish to have MEMORABLE experience, whether to learn or improve their culinary skills, spend their free time with friends or bond with their loved ones in a FUN and affordable way. Unlike other culinary arts schools, our classes are kept small and conducted hands-on in a HOME KITCHEN environment using recipes which can be re-created at home.
If you are new to cooking, we have cooking classes that will teach you essential cooking TECHNIQUES. If you are experienced in the field, you can brush up on basic cooking skills or experience new cuisines and learn advance culinary techniques. You have the opportunity to interact with our culinary instructors and ask questions in a cooking class to help you better understand the CONCEPTS and techniques.
Our cooking class choices vary each week from cakes to food recipes. But whatever cooking class you choose, you will surely get valuable hands on experience. You will learn the proper way to look at recipes, the reasoning behind the choice of INGREDIENTS, the right way to balance food TEXTURES and FLAVOURS and how to use specific ingredients for certain dishes.
Time spent in our hands-on cooking classes conducted by our professional culinary chefs will ensure you produce better results every time you step into your kitchen. Our innovative cooking classes not only teaches you how to prepare a menu of dishes but also cover presentation and garnishing skills which enhance prepared dishes and lend confidence in the overall CULINARY experience.
COME and be exposed to the various cuisines from around the world and this will make you more knowledgeable about the ART of cooking.
Our Culinary Instructors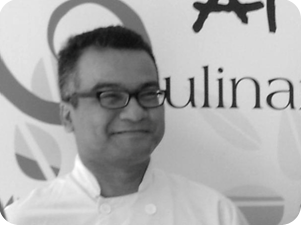 Chef Khairil Anwar Ahmad
Chef Khairil Anwar Ahmad is currently a chef lecturer with one of the prestigious culinary arts and hospitality colleges in Kuala Lumpur. He has racked an extensive culinary experience working in hotels in the Middle East, Jakarta, Beijing, Sydney holding various positions including Executive Chef. He is equally versatile in both Western and Asian cuisines having worked in hotels in many countries around the world. He has also won several awards and has participated in cooking demonstrations and exhibitions in Singapore, Japan, Australia and China as guest chef for the Malaysian Food Festival. He has co-published a cookbook, 'Lost Recipes of Malaysia' which traces the rustic re-past of Malaysian cuisine.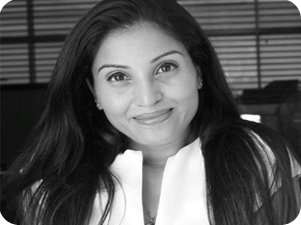 Chef Sapna Anand
A graduate of the prestigious culinary school, Le Cordon Bleu, Chef Sapna Anand's passion for food started off with trying out recipes for family and friends. Being an expat travelling around the world, she has had many opportunities to work with many chefs and learning valuable tips and techniques on cooking and baking. She is currently a culinary instructor teaching Indian cooking and French pastry. She also caters for niche dinners with her special modern Indian cuisine. She has published a cookbook, 'New Indian Kitchen' blending traditional indian cooking with new techniques.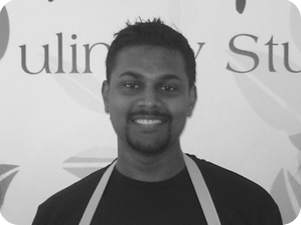 Chef Ezekiel Ananthan
As a young hotel & catering management graduate, Chef Ezekiel Ananthan decided to explore the culinary world in Singapore and later taking up an apprenticeship in a patisserie in Wellington, New Zealand. His passion in bread and pastries was influenced by the artisan movement during his training. He specializes in baking artisanal breads the old traditional way using overnight fermented dough. He currently owns Grass Street café specializing in a repertoire of wholesome healthy breads. He has published a cookbook, 'Home Baked Breads' showing how easy and healthy it is to bake bread & buns at home.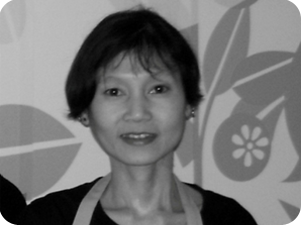 Chef Low Hooi Bee
Chef Bee is a behavioural therapist who works with children with autism and dyslexia. In her research she discovered that a casein and gluten free diet is beneficial for kids with autism. Results showed that kids fed with a gluten free diet achieved vast improvement in their behaviours and better mental development. Chef Bee graduated from the London School of Economics and having worked in the health supplement industry for many years, she understands the importance of good nutrition and promotes healthy eating with simple and uncomplicated recipes. She specializes in healthy Chinese cooking and gluten free cooking. Her aim is to equip new cooks with the confidence and skills to cook a nutritious meal.
Dietitian Goo Chui Hoong
Goo Chui Hoong is a qualified dietitian and an adjunct clinical senior lecturer with the Department of Nutrition and Dietetics, International Medical University, Kuala Lumpur. As a freelance dietitian, she provides dietetic counseling on the nutritional management of various health conditions. She is passionate about food and health learning the art of cooking through her sheer interest in food. In her spare time, she teaches healthy cooking classes which include themes like beating bad cholesterol, prevention of cancer, food for eyes, diets for diabetics and healthy eating for children. She has published a cookbook, 'Lite Malaysian Favourites' and co-published two cookbooks, 'Lost Recipes of Malaysia' and 'Food for your Eyes', the latter which has won Best Health & Nutrition Cookbook at the Best in the World Gourmand Awards 2013 in Paris.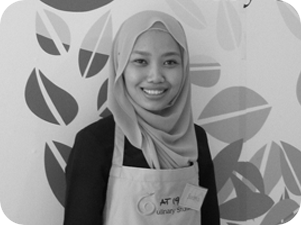 Baker/Cake Decorator Suraiya Razib
Suraiya was born into a family that loves cooking. Her father loved kampung food and following her mother's Javanese's roots, she often helped in the kitchen, cooking Javanese food for celebrations. Although she is a qualified lawyer, Suraiya chose to pursue her passion in the culinary art. She attended weekend classes whilst working as a lawyer and obtained a Diploma in Baking from the Malaysian Institute of Baking. Today, she bakes wonderful cakes, bread, pastries and dessert. Suraiya was featured as a young chef who represents the new generation in the cookbook, Lost Recipes of Malaysia.
Chef Jobs:
Stressed out working in a commercial kitchen! Looking for something more creative?

Come and share your knowlege and experience as culinary instructors? We are looking for young dedicated chefs (cuisine/pastry/cake deco) with 2-3 years experience (full-time/part-time) for our culinary studio.
Submit your CV to [email protected]. Apply now!