Join our Membership Programme
You just need to pay RM50 to join as a member and get 10% discount on all classes for 12 months plus other benefits. Membership is renewable annually.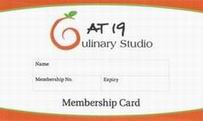 Terms and Conditions:
1. The membership fee is RM50 valid for a period of 12 months. A membership card will be issued.
2. This card entitles the cardholder to a 10% discount on our cooking or baking classes. There is no discount for the purchase of gift vouchers.
3. The cardholder is entitled to a 50% discount for any classes purchased during their birthday. This discount must be redeemed during the cardholder's birthday month. No extension is allowed.
4. The cardholder is encouraged to get 6 friends and/or family members to participate in one cooking class and the cardholder will have the privilege to attend the same class for free.
5. Every new friend and/or family member recruited by the cardholder to take up our membership programme will receive a RM20 cash voucher to be redeemed against any cooking classes.
This RM20 cash voucher is valid for a period of 3 months from the date of issue and can be accumulated for redemption against cooking classes provided the vouchers have not expired. Should the choice of class is valued more than the value of the cash voucher(s), the cardholder can top up the difference with cash. Any unredeemed value in the cash voucher will be forfeited. No extensions are allowed once the cash voucher has expired.
6. This card may not be used in conjunction with other cards, promotions, special offers or cooking classes redeemed through gift vouchers.
7. This card is not transferable and may only be used by the individual whose name appears on the card subject to the expiry date.
8. We reserve the right to vary and/or amend the terms and conditions and privileges associated with this card at any time without prior notice.
9. This card is to be renewed prior to its expiry date with the payment of the annual membership fee. No extensions are allowed once this card has expired.