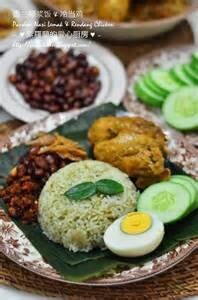 Teambuilding - Malaysian Nasi Lemak (Cooking Class)
Teambuilding cooking class - Enquiries welcome. Please email us at [email protected]
Recipes:
Nasi Lemak (Aromatic rice cooked with coconut milk and pandan leaves)
Condiments of ikan bilis, kacang and telur (Anchovies, peanuts and egg)
Nasi Lemak is a popular rice dish in Malaysia served with rice steamed in coconut milk and pandan leaves to give it a rich fragrance. Many have referred to it as Malaysia's national dish.
Come and learn how to cook Malaysia's favourite rice dish accompanied by the must have condiments. Absolutely yummy!
Learning Outcome
This is a specially designed cooking class for teambuilding. Simple yet fun taking into account that some or most participants are not skillful in cooking.
Participants will work in groups, sharing and learning how to cook a meal. There can even be a competition amongst the groups for the best cooked dishes based on taste, presentation and teamwork.
There will be lots of fun, laughter and bonding between the participants as they challenge each other in creating finishing touches to their completed dishes.
Participants will learn about the ingredients used in cooking and begin a journey of discovering the wonderful world of sense, smell and taste.
Class is hands-on. Class duration is about +/-2 hours depending on the number of participants in the class. The price includes all ingredients, equipment and utensils. Participants will be taught under the guidance of a culinary instructor.
SOP requirement:
Participants have to be fully vaccinated and have a low risk no symptom profile displayed in the MySejahtera Covid-19 risk status.
NOTE 1: Our kitchen studio is a pork free and alcohol free premises. Consumption of any pork related products or alcohol is prohibited.
NOTE2: Students are required to bring their own aprons.